Seasonal Designs – Flag Products
Seasonal Designs, Inc. is your one stop shop for all your flag products and accessory needs. Feel free to browse our site for a complete listing of all our products.
Flag Production
All U.S. flags are manufactured at our facility in Waukegan IL. We only sell U.S. manufactured product, 100% Made in the USA.
We believe in business
At Seasonal Designs we pride ourselves on our products and customer satisfaction. We have a wide variety of flag products for all your patriotic needs. In addition, we also have collegiate flags, grill covers, and umbrellas. Standing behind our products is what we pride ourselves on! If you have any questions at all, please feel free to contact us at your convenience and we would be more than happy to help in any way we can.
Everything you need – Flag products and accessories
With a wide variety of products we are sure to have what you need and in stock:
American Flags and Armed Forces Flags
Flag Poles and Accessories
Collegiate Flags
Collegiate Grill Covers (Large and X-Large)
Collegiate Umbrellas
Replacement Flags
USA Fan Flags
USA Flag Kits
Hand Flags
Country Flags
Mounting Brackets
If you have any questions, feel free to contact us and we would be more than happy to assist you.
Seasonal Designs makes ordering our products quick and easy! Click to SHOP NOW.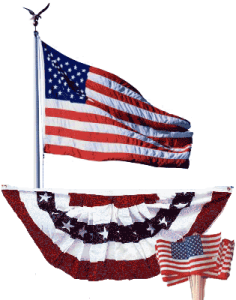 The premium 3' x 5' flag is carefully crafted of heavy-duty material, has a reinforced header for durability, and brass grommets for added strength. This flag comes with an all-aluminum, never-rust six-foot pole, ball topper, and two-inch anti-furling rings to hang the flag. The anti-rust rings spin, so the flag will not get caught on the pole. The collegiate flag is officially licensed by the university, which issues the official logo and colors. Show your collegiate pride and display your school colors proudly! Logo viewable from both sides. Great for tailgating, home, dorm, or taking to the game.